Oceanology International Americas (OiA) exhibitor Water Linked recently shared the good news that it is set to provide a key component in the Watbots innovative solution for aquaculture cage cleaning.
Norwegian tech start-up, Watbots, is shaking up the aquaculture industry with over 600 of its autonomous cage cleaning robots already on pre-order and reported over subscription to its successful NOK 20 million equity funding round last year.
"Growth on nets is today a major challenge for the industry. Traditional measures are costly, have a negative impact on fish welfare and pollute the environment with copper around the fish farms. We believe that Watbot's autonomous robot can solve several of the industry's challenges with their innovative approach to daily washing, inspection and reporting on the net,"
said Pål Selboe Valseth, CEO of Valinor, which invested NOK 10 million in Watbots last year.
Central to the Watbots solution will be the M16 modems from OiA 2023 exhibitor Water Linked which will allow the advanced robots to communicate natively with the base station without signal interference.
Founded in 2013, Water Linked has embarked upon a mission to disrupt the market for underwater acoustics. Proprietary Wireless Sense™ technology is at the core of the companies' products, enabling users to tackle some of the biggest challenges found while working underwater and the bespoke Watbots linked modem solution exemplifies this expertise.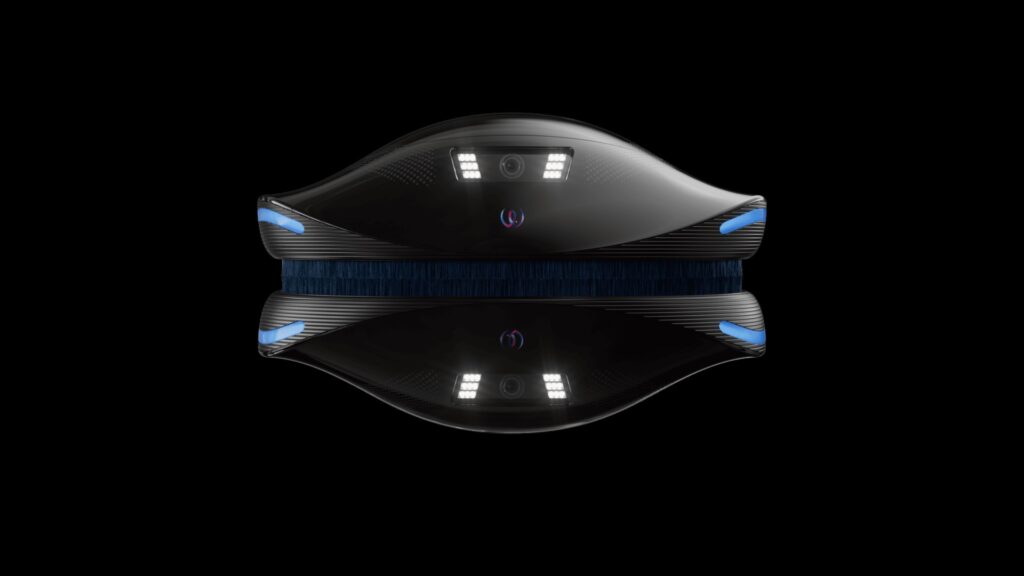 MULTIPLE ROBOTS
A critical requirement for this innovative concept is that there is a reliable acoustic connection between all the robots working in the farm and their base station. While Water Linked already had a highly reliable acoustic solution, known as the M64 modem, this unit had a number of limitations with regard to Watbots' needs. Watbots required the modem to be smaller, operate on lower power, offer increased range, have no export restrictions, and provide the highest level of dependability in a data connection.
With up to 12 robots working in a fish farm at any given time, ensuring that there is no interference created by multiple robots communicating at the same time is of high importance.
The Water Linked M64 modem has a proven track record operating in the most challenging of environments and was the basis in the development of the recently released Water Linked CageSense™ solution.
Watbots carried out trials of the Modem M64, which combined with reviewing the CageSense™ performance data provided them with the assurance that Water Linked could meet their needs and develop a new modem that would work to meet their specific requirements.
Håvard Lillebo, Chief Executive Officer of Watbots, commented:
"A robust communication is critical to our solution and working closely with a proven technology innovator such as Water Linked provides the reassurance required for this key part of our unique solution. We feel this partnership will benefit both companies and reaffirm Norway as a leader in bringing exciting new technology to the underwater industry."
The M16 modem will benefit from the latest advances that have been integrated into CageSense™ and will provide the subsea industry with an unrivalled acoustic modem for use in the most challenging of environments.
Scott McLay, Chief Commercial Officer of Water Linked, stated:
"We are all very excited to work with Watbots, a company that aims to set the next industry standard for daily net cleaning and inspection. This requirement has given Water Linked the opportunity to further develop our acoustic modem platform and set a new standard in robust underwater communication."
Of further interest to OiA visitors, while the M16 Modem has been developed with the intention that it will be fully integrated into Watbots' proprietary platform with a bulkhead seal interface, Water Linked also plans to offer a variation that can be used where a customer would prefer a watertight cable interface.
WHY OCEANOLOGY?
Water Linked decided to once again exhibit at Oceanology in the USA
"as it's the best opportunity for us to meet existing and new customers based in North America, all in one location", continues Scott McLay. "We continue to grow our market share and North America is a key market for us hence it is important for us to maintain a visual presence. I can also share that we intend to have a new product launched at this show however at this time I am not able to confirm the details", Scott added tantalisingly.
"As with the M16 modem and our A50 DVL (the world's smallest DVL) we plan for this new product to once again be disruptive in design, providing customers with a high performance sensor in a package that is unbelievably compact and cost effective."
The first delivery to Watbots of Water Linked M16 modems will take place early in 2023.
Visit Water Linked AS on booth 31 at Oceanology International Americas in San Diego, USA from 14th -16th February 2023