Repeat Oceanology International Americas (OiA) exhibitor ZephyrNW will share insights of surveys, fish counts and military operations from Alaska to San Diego.
Research Vessel Zephyr is an 85ft former pilot boat chartered out to clients that need a temporary platform for work on the water. A seaworthy vessel built to withstand challenging conditions month in and month out, Zephyr was built by Colberg Boat Works in Stockton, CA, in 1972, originally for the San Francisco Bar Pilots, in steel throughout to the highest standards dictated by the American Bureau of Shipping.
SOLID PLATFORM
As her joint owner and captain Ron Micjan explains, Zephyr's design and standard of construction has stood her in good stead for this second chapter in her seagoing career: "90% of Zephyr's original materials, plumbing and wiring are still in use and functioning perfectly today. We still have several items aboard that show her original name. This is a small ship that was designed from scratch to spend its life literally running into much larger ships, in almost any sea condition – truly a world class vessel."
After 29 years of successful pilot duties, the vessel was donated to Monterey Bay Aquarium Research Institute to be converted into an oceanic research vessel. MBARI spared no expense converting and improving Zephyr for her new mission and added two utility hydraulic cranes to her afterdeck, two new generators, electronic engine control systems, modern navigational electronics and many other upgrades and improvements.
She came into Ron, and wife and business partner Ashley Paterson's ownership in 2013 and was refit at Portland, OR and Astoria. A philosophy of incremental improvements has continued since, from upgrading navigational equipment, to interior accommodations, an upper deck canopy with solar panels, a new dive platform and ladder, and a four ton SWL A-frame crane, cementing Zephyr's legacy as a reliable and comfortable work platform.
Both partners in the business bring USCG licensing of 200 tons, Ashley a gift for organization and meals worthy of an upscale B&B, Ron brings a lifetime of mechanical and fix-it talent, a perfect Yin-Yang match up.
RV Zephyr is not the only tool in the shed, the team also can bring along a couple of small boats, a 16' Zodiac and/or a 21' heavy duty RHIB and operators as needed for specific deployments.
ZephyrNW's typical client is a project manager for businesses, government agencies, or universities that have work to do on the water and either do not have their own vessel, or have vessels that are not sized appropriately for the work in mind, or perhaps do not have enough range, are out of the research area, or their company boats are being serviced.
RIGHTSIZING
Often the median size of Zephyr, allied to the hefty offshore capabilities it can deliver prove to be the 'perfect package' and a real time and/or money saver for a client. "Last year we were hired to do a Pacific cod fish survey as we were the only vessel available that could range from Juneau, AK around the top of the Gulf of Alaska, and all the way down to the bottom of the Alaska peninsula. The client had previously located three different boats that each were going to provide a portion of the job, but the parent organization required two weeks of isolation between ship changes due to covid. This additional time caused them to find a boat like ours that could do the entire job in one pass."
Ron is quick to point out that ZephyrNW's unique offering is certainly not all about the boat though: "We offer fully crewed charter and so, can only be as good as our people. Zephyr's crew bring a "can-do" attitude to projects. Our skill sets include medical first aid, SCUBA, electrical and electronic know-how, rigging, fabrication, computer literacy, and drone piloting."
For a one vessel, family owned and operated venture, Zephyr's list of clients is undoubtedly an enviable one, ranging from the US Army Corps of Engineers and DARPA to NOAA Marine Mammal Laboratory, WHOI, OSU and Scripps. "It's a great source of pride for us at ZephyrNW", says Ron, "that whether the client happens to be a giant in world military affairs or a local environmental bootstraps start-up, the time-served and straightforward offering of a clean, seaworthy, well-equipped ship operated by a professional, caring crew will always prove to be a winning formula."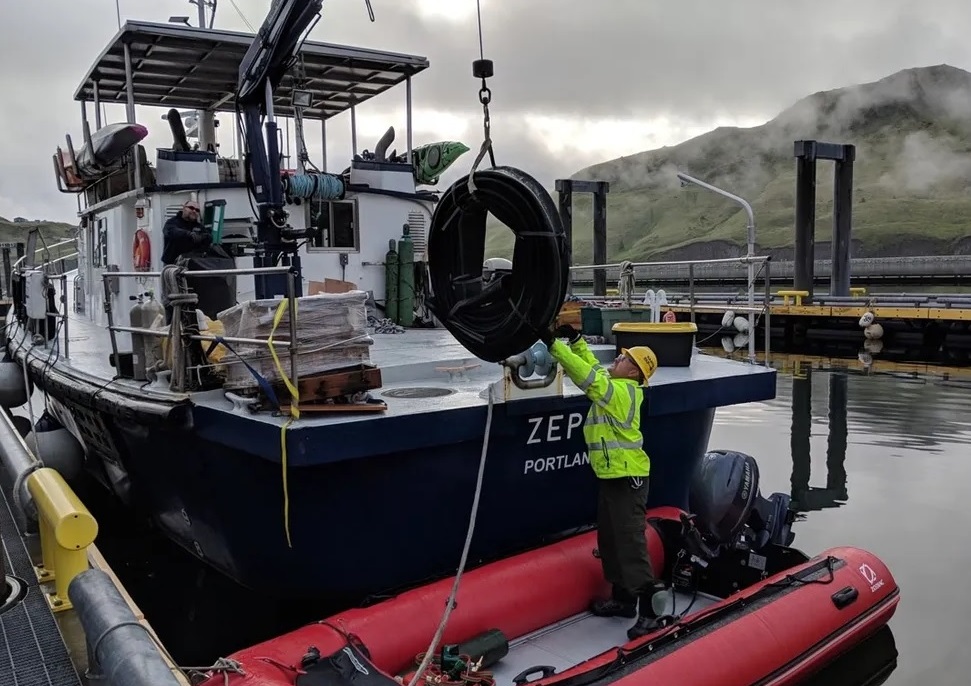 BUSY SEASON
The sheer variety of Zephyr's capabilities is exemplified by Ron's description of her 2022 logbook: "This season's work started in April with a wave and current monitoring weather buoy launch in the Puget Sound. We then travelled down the coast to Eureka, CA to launch a wave glider for the USGS who are studying plate movements offshore. We then continued down the coast to San Diego for three weeks of (classified) work for the US Navy."
"On the way, we were able to fit in servicing and clearing moorings of bio fouling for several other wave weather buoys for UCSD Scripps. Heading back north, we undertook two more buoy servicing jobs that had been postponed on the way south due to bad weather. Then back to Eureka to recover the wave glider we had launched the previous month for USGS."
"At Coos Bay we delivered a hydrographic survey for the EPA and US Army COE to examine build-up of dredge spoils from the river. From Coos Bay we took a Teledyne Webb Slocum sea glider for Woods Hole out 250 miles offshore for a deployment, and returned to Puget Sound for another wave buoy clearing. We then returned to Coos Bay for dredge spoils sampling using a box core scoop and then deployed a substrate camera system for phase 2 of the EPA/ USACE project. Next it's back to Port Townsend for a short shipyard visit and installation of gear for more US Navy work this fall."
MARKETING FOCUS
Ron and Ashley are also adept at connecting with their audience and potential clients; RV Zephyr has lively Facebook and Instagram pages, a regularly updated website and a fast- growing following for its YouTube videos at www.youtube.com/zephyrnw showing extensive drone footage of the often wild and remote locations where the vessel conducts its varied work.
Part of this successful marketing strategy has always been in-person tradeshows, and this is where OiA has already proved its worth; "We exhibited at the last Oceanology in San Diego. Our requirements for marketing and advertising are that we have to see a return on investment that is measurable, so we always ask our clients where they found our contact information. The requirements for trade shows are that we need to see a job come out of contacts made at the show, that will pay for the investment of exhibiting. We made several contacts at OiA last time and one of them turned into a job and two others had requested bids on work that either didn't pan out or were not large enough to cover the travel expense to take it on that time. Either way it's measurable ROI for being at the show and so, we are thoroughly looking forward to seeing our clients and potential clients again in San Diego in February 2023."Join us at Oceanology International Americas in the ocean tech hub of San Diego, from 14th to 16th February 2023 to learn from ocean leaders from across the globe, boost your technical and blue economy knowledge, and connect with your industry colleagues.
Visit ZephyrNW at booth E36