The Solid Choice
An excellent alternative to glass sphere flotation, DeepWater Buoyancy's Hardball® Floats provide subsea buoyancy for a wide variety of oceanographic applications. Made for the demands of subsea moorings, as well as the rigors of handling on the decks of vessels, HardBall® Floats are built of strong solid materials for years of reliable service.
No need for a protective covering. No need to handle carefully. No need for regular inspection and maintenance. No danger of implosions at depth. Just rugged, versatile subsea buoyancy.
Using Glass Spheres?
Glass spheres have been used as "inexpensive" buoyancy for years. They have had a relatively low cost for the amount of buoyancy that they provide.
While it is true that they have been a less expensive capital investment, users know that they have long-term operating costs. Because of their design, they require regular inspection and maintenance.
For example, as the spheres age the butyl tape around the equator gives up and begins to degrade. Maintaining and replacing the seals is a specialized task that requires the right equipment. Not everyone has the capability to perform this procedure.
Dan Kot, Senior Engineering Assistant in the Ocean Bottom Seismology Lab at Woods Hole Oceanographic Institution, has a great deal of experience with glass spheres in a variety of applications. "Woods Hole has been successfully using glass spheres for many years," Dan writes. "But it has not been without its cost. To be successful we have had to be diligent about our regular inspection and maintenance practices. Even with proper procedures, we are always keenly aware of the extra time, added expense, and inherent risks associated with this product."
Risks of Glass Spheres
Despite being rated for pressures of up to 10,000psi, glass spheres are fragile on deck and must be handled with care. In fact, they are so delicate, they require a "hard hat" to protect them.
Additionally, there is the subsea operational risk. On occasion, the glass spheres implode at depth. A scratch, chip, spalling on the equator, or other imperfection can create a situation where the spheres lose their integrity. Occasionally, the defect cannot be seen with the naked eye. Spheres that appear fine will sometimes implode under subsea pressure.

Images of an imploded deep sea glass sphere and hardhat during mooring recovery. Photo courtesy of Dan Kot, Woods Hole Oceanographic Institution from the Crustal Reflectivity Experiment Southern Transect cruise. Learn more about it here.
Implosion is a violent event that creates an instantaneous loss of buoyancy. The implosion can also create a chain reaction that causes loss of other spheres by the shock wave and can damage instrumentation. All this can put the mooring and the mission at risk. Because of this risk, subsea engineers have to adjust their mooring design to keep spheres at a distance from each other, as well as from instrumentation.
Robert Weller, Senior Scientist at Woods Hole writes, "We have a mooring that has been interesting because there is an acoustic observatory on the sea floor nearby and the observatory tells us how many glass balls implode when we deploy a new mooring each year. We have puzzled over the ball failure rate there, which has been a bit higher than our other moorings."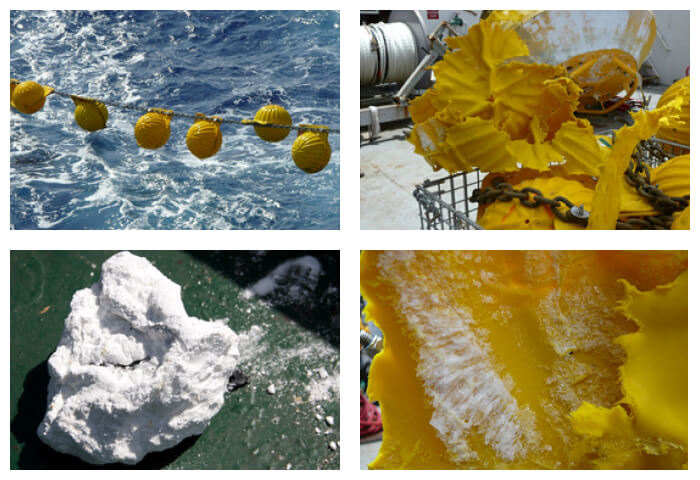 Images of imploded subsea glass flotation with its protective shell after mooring recovery. Photos courtesy of Jim Potemra, Researcher, University of Hawaii. Images from the Woods Hole Hawaii Ocean Time-series Site. Learn more about it here.
What a Drag
In addition to being used as reserve buoyancy, glass spheres are occasionally used in structures to support instruments. In these cases, the spheres (in their hard hats) are mounted to framework. This can leave the deployment solution as an awkward, high drag object.
On occasion, glass spheres in their hard hats are strung together on cables or chains. When things go awry, recovering this kind of jewelry can result in quite a mess.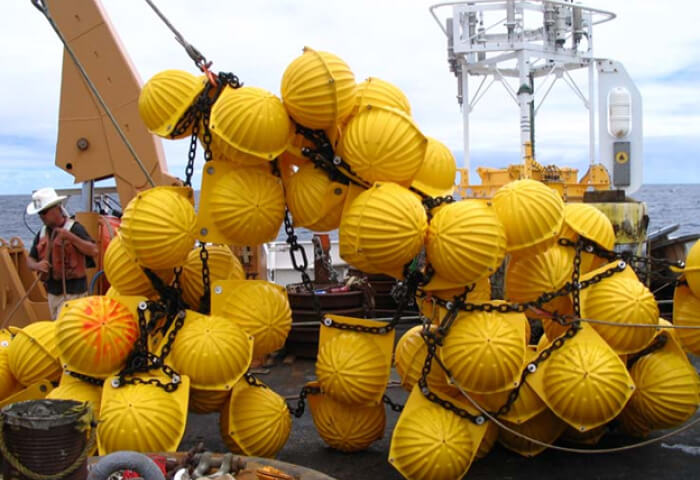 A tangled knot of glass spheres on a chain after recovery of a mooring. See original photo and details here at the NOAA and Teacher at Sea Blog.
The Solution
Available in a wide range of sizes and depth ratings the HardBall® Float lives up to its name. The buoyant core of the float is made of only the highest strength, epoxy-based DeepTec® solid syntactic foam – no macrospheres or other high-risk fillers are used.
This solid core is housed in a thick-walled, high-density polyethylene exterior for maximum impact and abrasion resistance. This durable shell also provides resistance to biofouling.
Here is a summarized list of features and benefits:
Buoyancy in a simple spherical package
Available for numerous depths and diameters that provide varying uplift
Always solid foam – no fillers
No hard hat required!
Comes with a standard through hole for mounting
Can be provided with eye nut mounting hardware
Can be mounted inline with mooring
Learn More
See our HardBall® Float product page here.
About DeepWater Buoyancy, Inc.
DeepWater Buoyancy creates subsea buoyancy products for leading companies in the oceanographic, seismic, survey, military and offshore oil & gas markets. Customers have relied on our products for over fourty years, from the ocean surface to depths exceeding six thousand meters.
Learn more at DeepWaterBuoyancy.com
This article was provided to Inside Oi by DeepWater Buoyancy.