Oceanology International Americas (OiA) has struck a deal with the Society of Maritime Industries (SMI) to create an SMI/British Pavilion at the event in San Diego in Feb 2023. Oceanology International Americas is the forum where ocean industry, academia and government connect to discover innovative solutions, from the ocean technology and marine science communities. 'OiA is targeted at ocean professionals who are looking to improve their strategies for exploring, protecting and sustainably operating in the world's oceans and waterways' says David Ince, event director. David continues ' OiA is hosted in San Diego, the heart of the US Blue Economy making it the ideal location for the community to extend its connections across the wider Americas market'. 'We're delighted to be working with the SMI to help deliver new opportunities, to find new customers in geographical locations that they may not have relationships in.'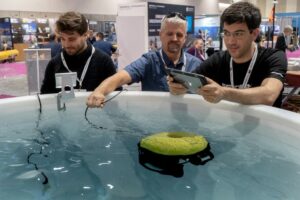 SMI is the trade association for the UK's maritime engineering, science and technology community. As a trusted advisor to the UK government, we look to create new levels of maritime innovation. We support our members to thrive in various ways, enabling them to raise their profile and enjoy new, meaningful collaborations across the maritime sector. Tom Chant CEO of the SMI says 'As a membership organisation we are keen to add value and offer our members opportunities to create business connections in new territories, to help them grow their business, their knowledge and develop new relationships.
OiA is strategically important for our members as the event extends their reach beyond Europe and into new dynamic markets with a focus on the New Blue Economy.'
If you would like details of how to participate please visit the SMI Website or contact Emma Johnson Emma.Johnson@maritimeindustries.org.